** FOR SALE: Retired champion adult female -- See the AVAILABLE page **
~ Elegance in black, black/tan, brown, & brown/tan ~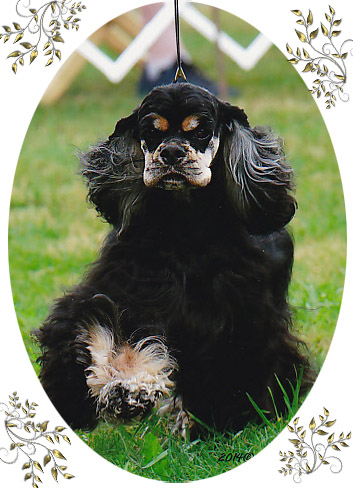 Am Ch Ky-Ann's La Sonrisa Bonita
"Taylor"
(Our first black/tan champion. CERF/PRA clear, OFA excellent, patella normal)
There has always been a special place in my heart for the American Cocker Spaniel. This website is dedicated to the memory of our beautiful black girl, McKenzie, Am/Intl Ch LaBaron's Key T' Ky-Ann's Heart CD CGC, who gave me a wonderful start in showing/breeding quality Cockers. She produced champion kids & grandkids. I did her show grooming & even showed her myself a few times. McKenzie was my foundation for a conscientious breeding program. She was CERF permanently clear, hips OFA excellent, patellas OFA normal. McKenzie is no longer with us, but you can see her photo on THE PAST page and at the bottom of this page pictured with her daughter. RIP sweet girl!!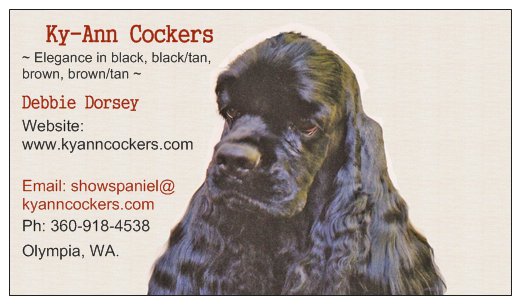 *~*~*~*~*~*~*~*~*~*~*~*~*~
*~*~*~*~*~*~*~*~*~*~*~*~*~*~*~*~*~*~*~*~*~
*~*~*~*~*~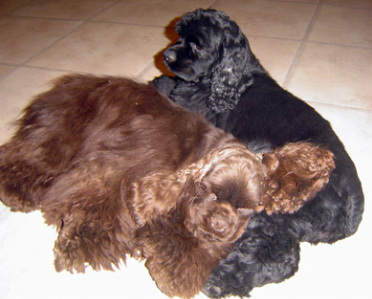 OUR PHILOSOPHY
: At Ky-Ann Cockers, we feel a well-bred Cocker is a balance of loving temperament, correct conformation, and overall good health which is important to the breed's success in the conformation ring, obedience ring, in the field, or as a family pet. When planning a breeding, mates are carefully selected by evaluating their conformational strengths/weaknesses, temperament, overall health, genetic testing, and pedigree to ensure the offspring are as good or better than their parents. Our goal is to produce puppies with wonderful temperaments and conformational qualities that closely meet the AKC Breed Standard with the ability to win in the show ring, yet still be great obedience/rally/agility, companion, or therapy dogs. Typically, we have one litter a year with puppies available to pet/family homes on a spay/neuter contract with limited AKC registration or show prospects available to serious show homes. The
AVAILABLE
page will be updated regularly with puppies/adults as they become available. The happiness, care, and well-being of our dogs is very important even after they leave here. Prospective buyers will be asked to provide references and info on their family and home life/living situation to ensure they can provide the best home and care for a Cocker puppy/adult. I'm happy to answer questions for newcomers to the breed & provide support to owners long after they've acquired their Ky-Ann Cocker. Please address inquiries to the e-mail or phone number above.
SOCIALIZATION:
To ensure our puppies are well-socialized and happy when they leave for their new homes, they are socialized from birth. All our puppies begin training for grooming and stacking on a table at 4 weeks of age. Nurturing, socializing, grooming, & training are the key elements that make raising & showing Cockers so rewarding. Due to the time commitment to do this, we prefer 1 - 2 litters a year & own 5 adult Cockers or less at one time. Please browse our website to see our beautiful Ky-Ann Cockers.
---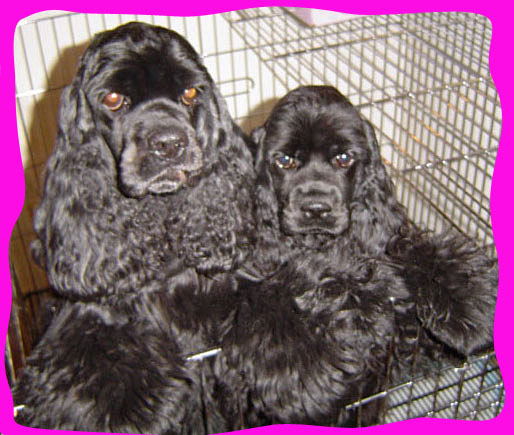 Am/Intl Ch LaBaron's Key T' Ky-Ann's Heart CD CGC (April 9, 1999 - April 1, 2011) with her daughter Am Ch Ky-Ann's Pullin' Heartstrings
* * * * * * * * * * * * * * * * * * * * * * * * * * * * * * * * * * * * * * * * * * * * * * * * * * * * * * * * * * * * * *


IN MEMORY OF SOME VERY SPECIAL COCKERS OF THE PAST
(show and pet)
* Am/Intl Ch Ky-Ann's Prime Design -
"Dante"
9-23-04 to 1-30-08
*
"Sammy"
(not registered) 12-28-07 to Nov. 2009
* Am/Intl Ch LaBaron's Key T' Ky-Ann's Heart CD CGC -

"McKenzie"

4-9-99 to 4-1-11
* Moonfyre's Hannah For Ky-Ann CGC -

"Hannah"

5-12-00 to 7-5-14
* Ky-Ann's California C'nection -

"Joey"

7-12-02 to 7-29-14
* Ky-Ann's Moonlite Rendezvous
-
"Tashina"
6-14-03 to Dec. 2014
* Am/Intl Ch Namees Ky-Anns Classic Passion - "Katie-May" 5-26-05 to 10-30-15
* Ch Ky-Ann's Joy Ride - "Conner" 7-20-05 to 1-31-16