Grooming Needs of the Cocker Spaniel
​
If you are considering owning this breed, you need to know it is a
high-maintenance breed
. This means a considerable amount of time and money must be put into maintaining the coat. Whether you've purchased your Cocker for show or pet, the following information is essential for healthy skin & coat
(along with a high-quality diet).

Regular grooming sessions will help your dog become comfortable with the grooming process & keep him looking & feeling great.
This breed has a tendency toward a sensitive stomach/skin, and coat or ear issues -- diet can effect this. We recommend a grain-free dry food with salmon which can work wonders for skin/ear problems. Salmon oil or coconut oil added to the food is beneficial. Low thyroid is a common condition in the Cocker breed. It can occur as the dog ages and will cause skin/coat/ear issues and possibly other problems. A veterinarian can check your dog's thyroid through a simple blood test.
The Cocker Spaniel is a double-coated breed - a top layer of coarse guard hairs and an underneath layer of soft, fine hairs which shed all year long. The coat grows long over the entire body & must be kept trimmed/groomed regularly for the life of the dog to prevent severe, painful matting. Beginning with the breeder, your puppy should have had regular baths/haircuts starting around 4 weeks of age & regular toenail trims starting at 1 week of age. New owners should continue to have their puppy professionally groomed every 4 weeks until 6 months of age, then every 8 weeks thereafter so the pup becomes accustomed to the process. I
f you prefer to groom the dog yourself at home, u
sing a grooming table makes this process much easier. For the average pet owner, a very short to medium length haircut is easier to maintain (see examples below).
Brush the coat with a slicker brush 1 - 2 times a week, then go over the coat with a metal greyhound comb to find any tangles that may have been missed. Pay close attention to armpits, tops of the feet between the toes, between the rear legs, belly coat, and the ear fringe as these areas tend to mat easily.
Depending on how dirty your dog gets, bathe your Cocker about every 4 - 6 weeks with a mild dog shampoo Cockers have sensitive skin so avoid using harsh flea shampoos often and never use human shampoo/conditioner.
A dog's skin pH is not the same as a human's so human hair products may cause oiliness, itchiness, and/or flaking.
Be sure to brush/comb out all tangles prior to bathing. When matted hair gets wet, the mats become tighter. Avoid brushing muddy/dirty feet, ears or areas of the coat that are soiled with urine. This will break off the coat and is painful for the dog. Shampoo and rinse these areas well, then brush out while blow-drying. Using a deep coat conditioner intended for dogs after the bath will make grooming easier, especially for Cockers who are kept with longer coat. Dry your Cocker thoroughly after a bath with a warm-air dryer, paying special attention to the armpits, between the toes/pads of the feet, and the long ear hair. Wet hair in these areas will mat easily & become painful for your dog. Be sure to completely comb out the coat after it is dry.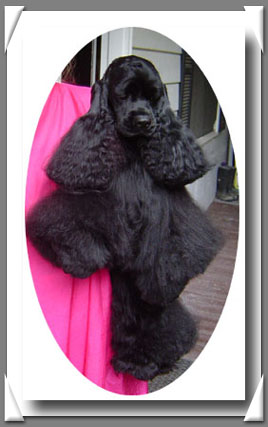 (Ch Ky-Ann's Pullin' Heartstrings)
Whether your Cocker is kept in a longer coat or a field cut (shaved), coat trimming should be done about every 6 - 8 weeks. The show Cocker trim is NOT the same as the pet Cocker trim. A professional groomer may be needed, but most grooming salons only do pet trims. Be prepared to pay a professional groomer $50 - $60 every 8 weeks for the life of the dog to keep a pet Cocker clean & comfortably groomed. OR, a booklet called
"
The Cocker Spaniel Show Trim and So . . . . You Want to Show Your Cocker Spaniel"
can be ordered from the American Spaniel Club. It is very informative & well illustrated on how to trim the full coated Cocker (show or pet). Order from their website:
http://www.asc-cockerspaniel.org/index.php/educational-materials.html
.
Toenails need to be checked and carefully trimmed each time the dog is groomed or more often if needed. Dogs who do not have the opportunity to walk/run on concrete daily to aid in filing down the nails, should have nail trims every 2 - 4 wks. Cockers have long hair growing between the pads on the bottom of their feet, so this area should be checked once a week for tangles, thorns, seeds, etc. which may have become imbedded in the pads or hair. When the hair is dry, use a small comb & gently comb the hairs between the pads on the bottom of the feet & between the toes on top of the feet to prevent tangles which can become painful if left unattended. Use electric clippers to trim the hair even with the pads on the bottom of the feet.
The Cocker Spaniel Breed is prone to ear infections due to their long ears which hang close to the head allowing for very little air circulation into the ear canal. Moisture inside the ear canal + body warmth = the perfect breeding ground for bacteria (yeast). The hair around the ear openings should be shaved close to the skin at all times to provide for better air circulation into the ears. The dog's ear canal is shaped like an "L", which does not permit water to drain out easily. So, it is important not to get water in the ears during a bath. We use
Zymox Ear Cleaner
before/after every bath and place a cotton ball in each ear during the bath, remembering to remove them afterward. Smell your dog's ears often. A foul smell coming from the ears, redness/tenderness of the ear could possibly indicate a yeast infection -- see your veterinarian at once. Ear infections (commonly yeast infections) left unattended can cause hearing loss, not to mention severe pain for the dog. And, an ear infection in one ear can quickly spread to the other ear if left untreated. After any ear infections are treated with an antibiotic, your veterinarian can advise you on a solution to use to clean the ears regularly and help keep the ear canal dry inside. We prefer
Zymox Ear Cleaner
as it contains all natural enzymes that prevent yeast bacteria from growing in the ear canal. It can be ordered online.